Get up to 15% off when you book on our website! Apply Discount.
Click Here

Before being available on our site, every apartment is checked personallyby our City Mates.
Only one out of every five apartments is ultimately selected by Be Mate, taking into consideration their style, warmth and location.

A personal concierge will assist you in English or the local language.
They will coordinate your check-in and will provide access to a wide range of services that you may need to get the most out of your trip.

Your booking includes much more than just the stay. Enjoy the benefits of an apartment with the services of a hotel.
Do you need internet? All our apartments have high-quality WiFi that you can connect to without charge.
D

are to discover the world
Designer apartments with downtown locations
Madrid

Barcelona

Malaga

Ciudad de México

Milan

Medellín

Venice

Rome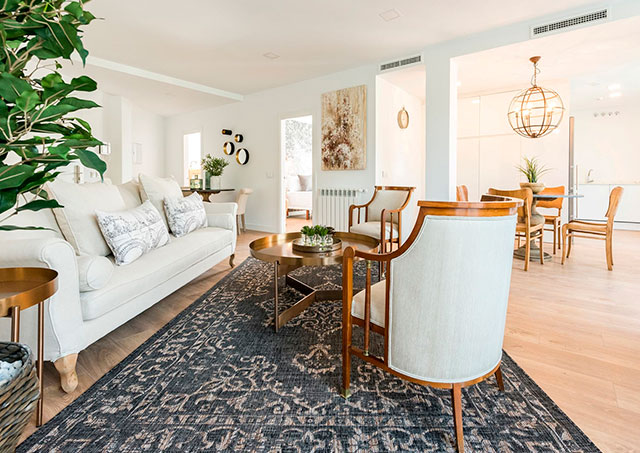 1/6
Be Connected
Free, high-quality WiFi so that you're always connected.
2/6
Be Comforted
Our apartments and the facilities, but especially our beds are extra comfy. You'll want to ask for five more minutes every morning.
3/6
Be Cool
Be Mate apartments are decorated with the most tasteful design. Come and enjoy a unique experience.
4/6
Be a Chef
All of our kitchens are fully equipped, so you can bring out your inner chef.
5/6
Be Entertained
Each of our apartments has a Smart TV. You won't miss anything.
6/6
Be Close
Apartments where you can feel at home, with downtown locations, so you can enjoy the city like a local.
We're backed by the opinions of our clients and the media
Enrique Sarasola will open 10 tourist housing buildings


Be Mate will open 36 new tourist apartments in Plaza España building in central Madrid
Kike Sarasola defies 'tourismphobia': launches entire Be Mate apartment buildings
Be Mate opens its third apartment building in Madrid

Great stay.
We loved the place, the cleanliness and the situation, we will definitely be back!
Apartment very well located and cozy
Apartment very well located, central. Nice and cozy décor. Very clean and complete Spacious and bright Very nice
Follow us on Instagram and keep up on everything we're doing