Get 15% off when you book on our website! Apply Discount.
Click Here

The BE MATE VIA TIVOLI building is located in the Brera district,in the heart of Milan.

A personal concierge will assist you in English or the local language.

Your booking includes much more than just the stay. Enjoy the benefits of an apartment with the services of a hotel.
The BE MATE VIA TIVOLI has 13 designer apartments that are fully furnished with every service and amenity. It is located in the historic downtown, in the Brera district, one of Milan's most popular and attractive neighborhoods.
Near the Sforza Castle and Parco Sempione, "the city's green lung," Brera surprises visitors with its fresh, dynamic character while also maintaining the city's chic spirit.
Cobblestone streets traverse this district where you can enjoy traditional Milanese cuisine at its bars and restaurants, stroll through its streets, or visit the private fashion boutiques, so you can discover the true Milan.
Minutes away from Be Mate Via Tivoli, you can find the epicenter of the capital of Lombardy, the Piazza del Duomo, where you can see the Duomo (the Milan cathedral), the Palazzo Reale, and also the Galleria Vittorio Emanuele, which is full of restaurants, bars and clothing shops of the most exclusive brands.
This gem of a building located on Via Tivoli is decorated in a style that combines every piece to perfection to give each apartment a modern touch mixed with sophistication. We're certain that you'll find every amenity to make your stay a pleasant trip where you'll feel right at home. A space that will delight even the most demanding.
Tourist Tax Milan: 3o per person per night.
Designer apartments in downtown Milan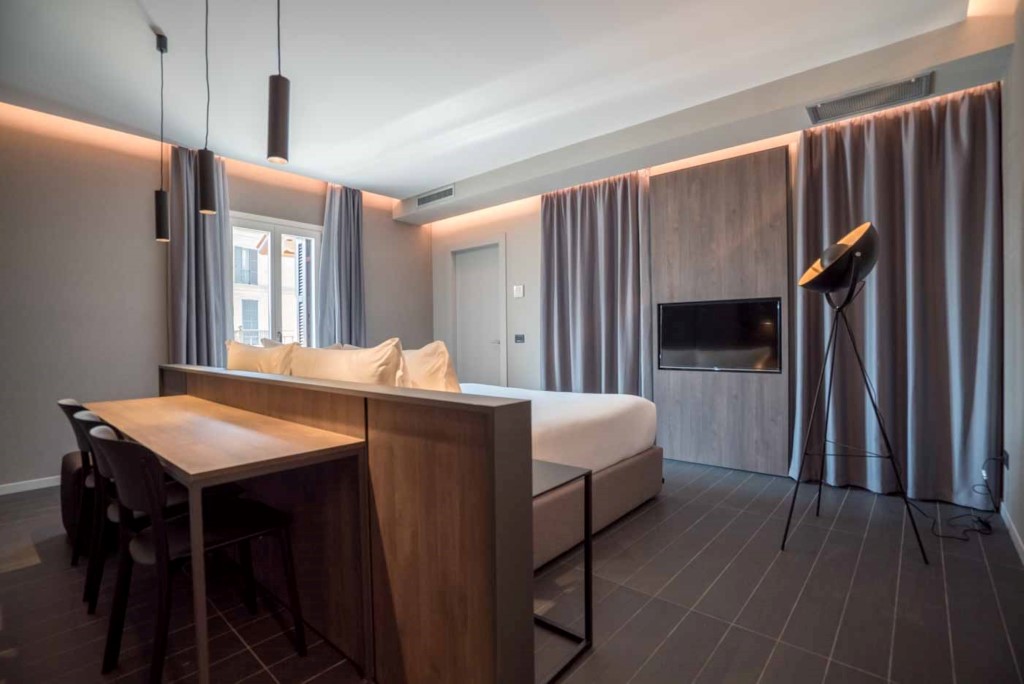 (2)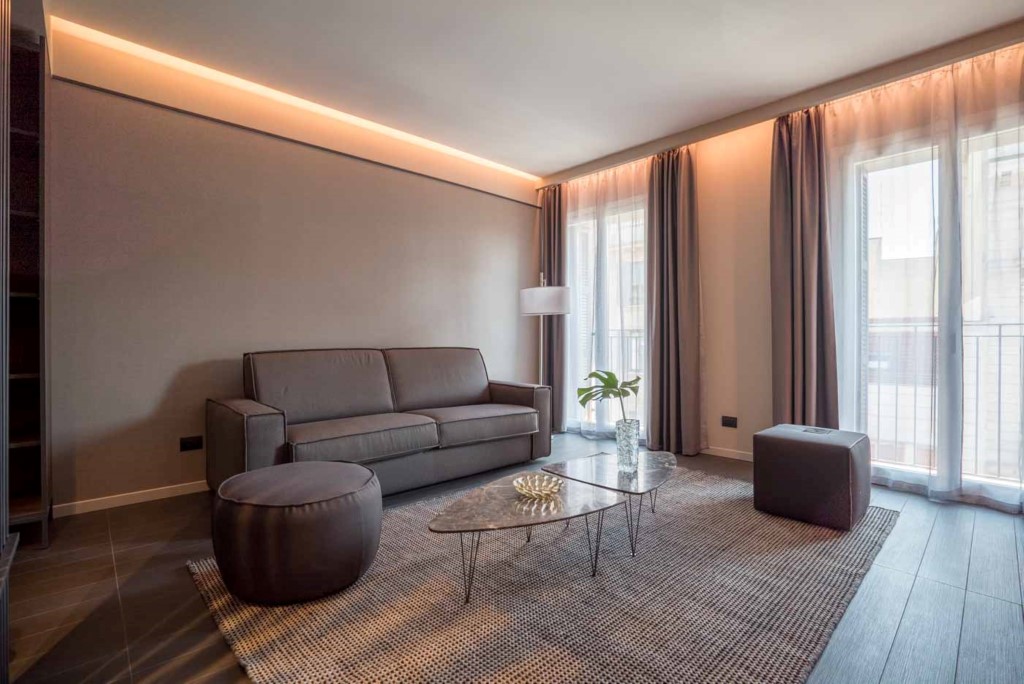 (4)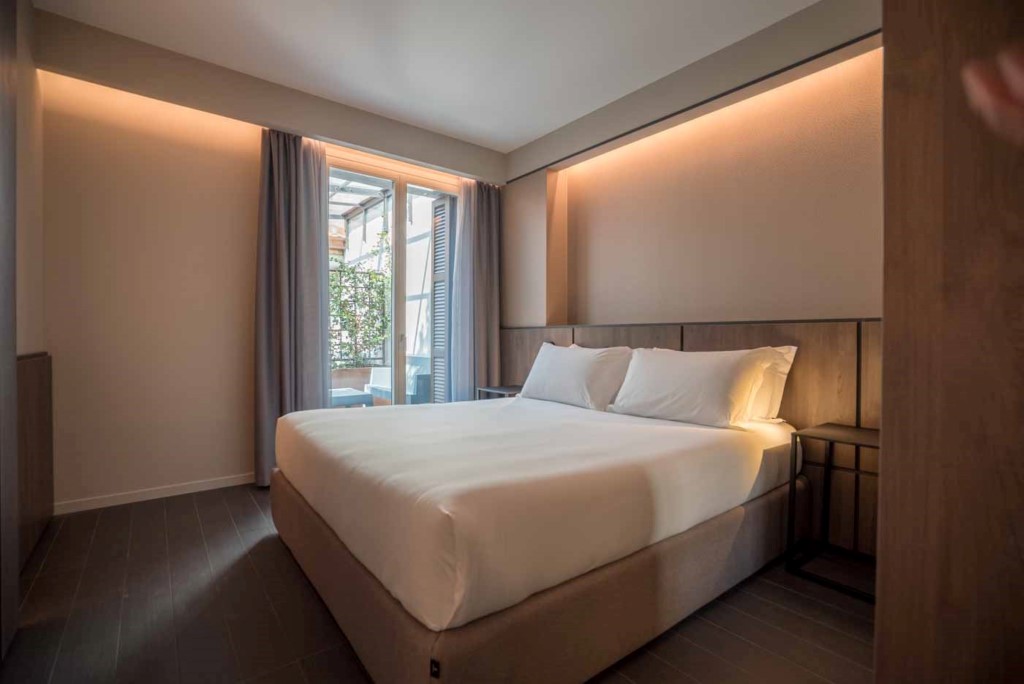 (4)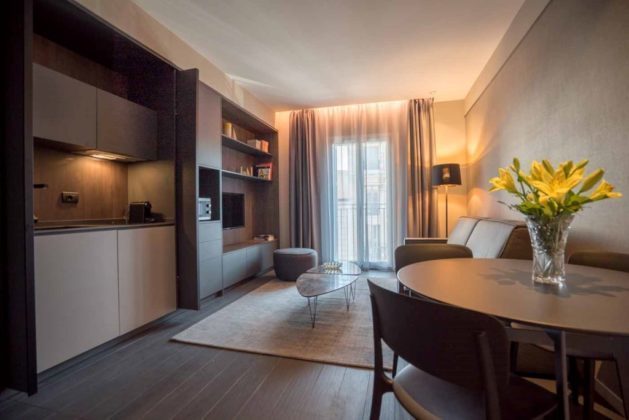 (6)
More than 30 services included in every apartment
We are at Via Tivoli, 4, 20121, Milan.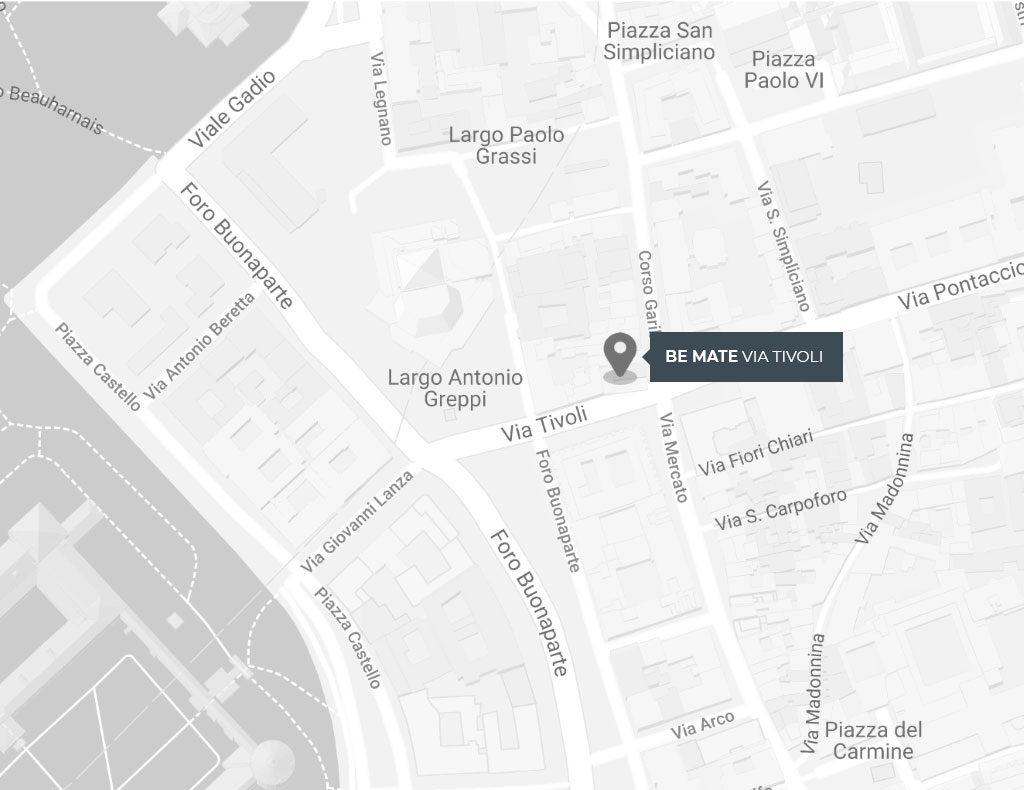 The exact address is: Via Tivoli, 4, 20121, Milan. Our reception is open everyday from 10 am to 6 pm. After the closing time , a phone number is available 24h a day on whatsapp (+34) 630 340 033 or calling (+34) 608 654 487 of customer assistance  to call for every need or request, or email us at [email protected]. We would be happy to help you
By metro:You can get to the apartment easily from anywhere The Lanza metro station, on line M2, is just a few meters from the Be Mate building. Also, just 450 meters away is the Cairoli Castello metro station, which is on line M1, the main metro line in Milan.
Milan Malpensa (MXP) is where most international flights land If your flight arrives here, we recommend using the "Malpensa Express" train service, which will bring you to the city center in about 40 minutes.
There's also the Milan Linate Airport (LIN), where many European airlines land. It's very well connected via transportation: you can take bus 73 and get off at the Duomo. From there, it will be a 4 minute walk to the building.