This building is the perfect choice for business travelers, thanks to its coworking space.

A personal conciergewill assist you in English or the local language.

Your booking includes much more than just the stay. Enjoy the benefits of an apartment with the services of a hotel.
The most authentic building in Madrid
Our imagination is limitless when we're thinking about your happiness. The new BE MATE MAD BG32 apartment building is proof of this with its location in the iconic Chamberídistrict, one of Madrid's most authentic neighborhoods. It is the perfect choice for those traveling for fun, pleasure, or business. The building has 18 comfortable apartments, designed and with care taken down to every last detail. It has spectacular common areas, a modern coworking space so you can work comfortably, and also a rooftop deck so you can relax and take in the stunning views of the city's skyline. In summer, it's ideal for sunbathing. Because who doesn't like to have a spectacular tan?
The BE MATE MAD BG32 building's apartments are full spaces that have all the amenities and services for you not to worry about anything during your stay. The BE MATE MAD BG32 building was designed by the renowned interior designer Luis García Fraile.
Such as the apartments' smart locks so you can have the best experience. The building is located in the Chamberí district, an area that is known for its wide range of restaurants and points of interest in its surroundings. Only 600 meters from the Moncloa Intercambiador Transit Station and the Argüelles metro station, so you'll be able to visit any part of Madrid easily and conveniently.
This is an exclusive building for business travelers. If you need further information or make a reservation in this building, write to us at [email protected]
Apartments for the corporate traveler.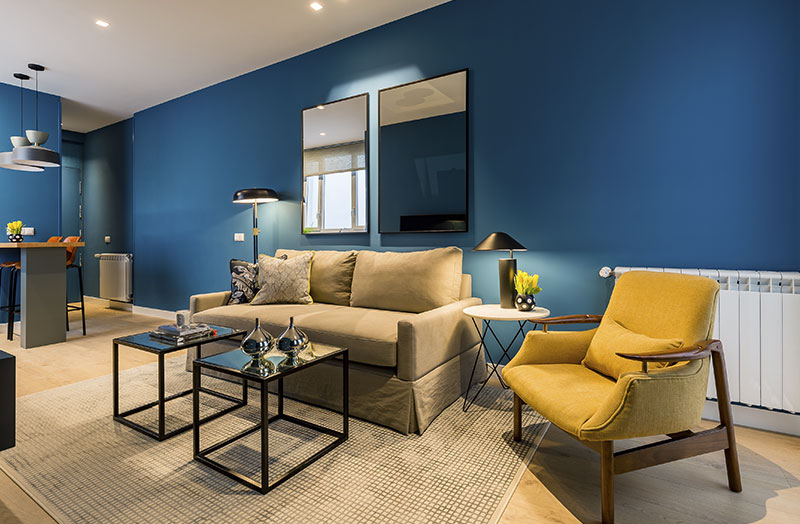 (4)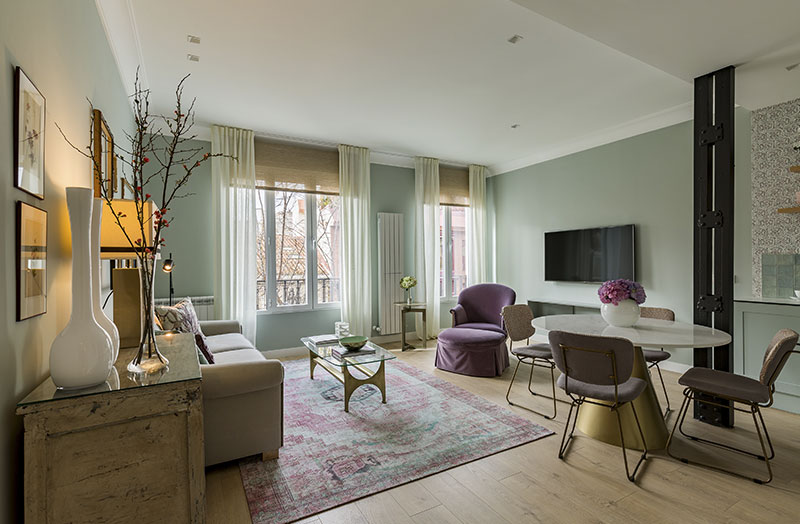 (6)
More than 30 services included in every apartment
We are at Calle de Blasco de Garay 32, 28015 Madrid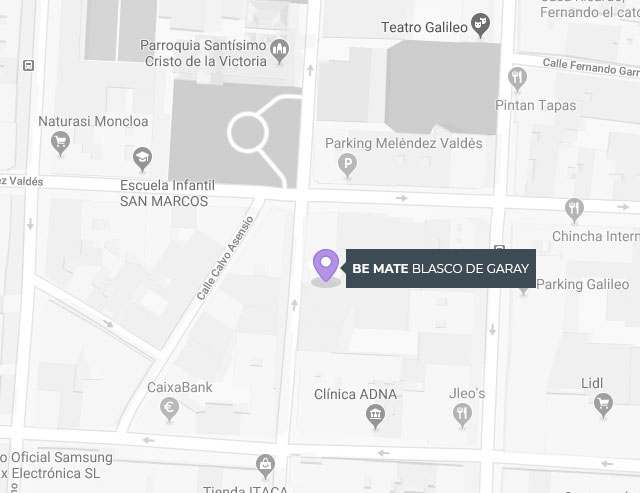 The building's exact address is: CALLE DE BLASCO DE GARAY 32, 28015 Madrid. For any question you may have, you can call us at +(34) 917 373 435 or email us at [email protected].
The building is 20 minutes from the Atocha station. A taxi will charge around €20, while in metro you need to take Line 1 (light blue) towards Pinar de Chamartín and get off at Sol, where you can transfer to Line 2 (red) towards Cuatro Caminos. Get off at Quevedo where you will be just a six-minute walk away.
The apartments are less than 15 km from the Madrid-Barajas Airport. There are different ways to arrive from the airport:
The fastest:private transfer or by taxi in less than 30 minutes for a fixed rate of €30.
The most affordable (between 45 and 60 minutes): take Line 8 (pink) from the Airport towards Nuevos Ministerios where you will change to Line 6 (gray) towards Laguna and get off at Argüelles. From there, it will be a 10-minute walk to the building.